Skin Facts - Sensitive or Sensitised
Nearly every single client we treat would say they have some form of sensitivity on their skin, but what does being sensitive actually mean? What does it look like? Will it forever be this way? Has my skin always been this way?
Sensitive skin is a very complex thing, and each skin is unique and can show a variety of symptoms.
The texture of the skin can look transparent and thin in texture
The skin can feel tight, which can mean the skin is dehydrated. This will also allow instant reactions to products when they sink into the skin.
The capillaries in the skin can over react resulting in blotchy red skin. There could also be a tendency towards rosacea.
An impaired barrier can result in cracking, peeling flaky skin across the cheeks and forehead.
The skin can also experience an itchy burning sensation.
Small, rash like bumps can appear across the skin and look like a break out, but it is not to be confused with acne.

A person who has sensitive skin is born with it and has always experienced one or several of the above symptoms. It happens because the skins protective function is weak and allows microbes, irritants and allergens to pass through. Sensitive skin is also hereditary, so it can be passed from generation to generation.
Ever heard of the term sensitised, instead of sensitive?
Sensitised skin becomes inflamed when a trigger is involved, such as,
Lifestyle
There are elements of our lifestyles that can irritate the skin. Alcohol, especially red or warming alcohols. Smoking. Diet – E.g Dairy, sugar and spicy foods have been a known irritants of the skin. Very low fat diets cause the lipids in the skin to become unbalanced causing it to become dry and irritated. Cosmetic ingredients can irritate – many cosmetic products contain ingredient that are known irritants. Like sodium Laryal sulphate, SD Alcohol (Denatured Alcohol, Alcohol Dent.) Lanolin, Perfume. As well as using products with the wrong pH level for the skin. Even going to the gym, doing cardiovascular workouts can cause the skin to become red, hot and irritated. You could be over processing the skin. We love exfoliation, but it needs to be the correct type of exfoliation for your skin. But you can do too much (all good things in moderation). You can over scrub with a physical exfoliant, put too many chemical exfoliants on the skin or the skin could be traumatised from laser resurfacing or chemical peels.
Physiology and disorders
Stress and Anxiety, can have a detrimental effect on the body. Not just raising your cortisol levels but by keeping you on a continuous high alert means your skin is already poised to react (a bit like fight or flight). In some people this can cause breakouts around the neck, itchy patches of skin and can effect your brains response rate in its anxious state. We all live in a very stressed world and it is very hard to find a moment to switch the brain off but for all aspects of your health and wellness, a little 'me time' is recommended. Along with stress and anxiety having an effect on your hormones and skin, hormone and auto-immune disorders can also cause sensitisation. Eczema, Psoriasis, Hay fever, Rosacea/Acne Rosacea, Acne, Thyroid, PCOS, Rheumatoid Arthritis are some examples that can make drastic changes to the skin.
Environment
Extremes of temperature and weather can effect our skins barrier function. We have all noticed that when the temperature drops outside and when we turn the heating up that the skin can start to feel tight and flake. UV exposure can not only damage skin cells but over time it can cause the skin to become hard, dry and leathery. Pollution and airborne allergens can penetrate quickly and cause irritation.
Medication
There may come a time where you will need to go on medication. It can be as simple as the pill to Isotetranoin (Roaccutane, Accutane), antidepressants, chemotherapy steroids (including topical) etc. How medication effects each individual person will be different. Sometimes these changes can be noticed on the skin through dehydration, pigment, texture and density.
Usually if the trigger is removed from the situation the area of irritation can reduce or disappear but not everyone can remove that trigger from their day to day lives.
So the symptoms of a sensitive and sensitized skin can look the same. Red, blotchy and feel tight, hot and rough but to have a sensitive skin you need to be born with it or fall between a 1-3 of the Fitzpatrick Scale (this is a scale that measures the melanin in the skin at birth) and to be sensitised the skin needs a trigger. Something that causes the skin discomfort.
So what has happens to the skin for it to become sensitised?
The best way to explain it, is to imagine a brick wall. A brick wall is made up of water, cement and bricks, if you take one away, the wall won't be as stable and will crumble. So now think of your skin. The skins cells are the bricks, the cement and water make up your lipids (an oil and water mix). If the ratio of lipids that are holding you skin cells together changes, so will the appearance and functionality of the skin.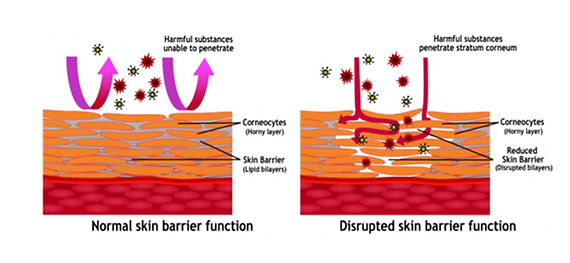 Another way of looking at it. Do you remember the last time you had a snotty cold? Your nose is running and you are continuously rubbing a tissue on the skin (not a nice balm tissue, just a regular tissue). The area of skin around the nostrils and top lip become sore, dry, flaky, anything you put on it including water, stings or burns. This is because the internal trigger of a cold has attacked your body from the inside and the excessive rubbing of the skin on the outside has made the situation worse. Until the tissue isn't needed any more, the lipid layer ratio in the skin will be imbalanced and will need some help to prevent the situation getting worse and becoming infected.
A sensitive skin will always have this imbalance as they have been born with it. It is not about working with a trigger or an area, its about maintenance of the skin as a whole. Through the use of effective products, replenishing and working with the skins ratio. You wont fix it but you can vastly improve it.
There are many ways to aid a sensitive skin or fix a sensitised skin. Here at Customised Beauty we stock Dermalogica with their full Ultra Calming range to help improve the skins health but also tackle other skin conditions that are associated with sensitivity. Sensitivity and sensitisation are not limited to just the face, but can also occur on the body. We not only stock Thalgo Body products, but we also offer Thalgo Body Treatments to help ease irritation.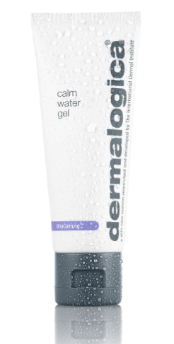 NEW Calming Water Gel
This product is a super lightweight, water based moisturiser for the more sensitive skins. Its water binding ingredients help to support a healthy moisture balance calming redness and discomfort.
Skin Type/Condition: Dehydrated, Irritated, Sensitive, Hot, Hormonal, Acne, Oily, Red and Inflamed.
---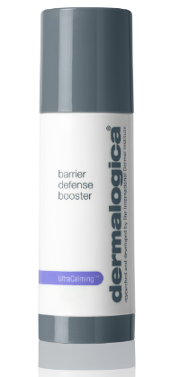 NEW Barrier Defence Booster
Nourishes, soothes and rebuilds the skins protective barrier. With it's Avena Sativa (oat) kernel Oil to treat irritation and prevent future irritation, especially to environmental ageing factors such as free radicals. 6-8 drops.
Skin Type/Condition: Dry, Flakey, Irritated Red Skin.
---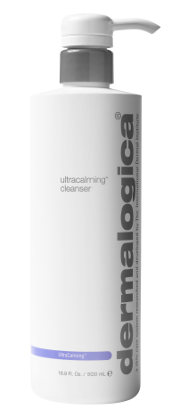 Ultra Calming Cleanser
This cooling pH balanced Gel-Cream cleanser that can be used wet or dry, soothes the most irritated skins, provides hydration and acts as a regenerator to help normalise skins that are suffering from a verity of problems, also acne.
Skin Type/Condition: Sensitive, Sensitised, Red, Dehydrated, Adult Acne/Teen Acne, Flakey, Hormonal as well as skin attacked by medical treatment eg Cancer
---

Ultra Calming Mist
Dermalogica's answer to replacing the old-fashioned toner. This fine water mist infused with a soothing complex of ingredients such as Aloe and oat kernel provides a flash hydration, relieves inflammation and redness by 30% in 30 minutes. Can be used at any point during your routine even over makeup.
Skin Type/Condition: Sensitive, Sensitised, Red, Dehydrated, Adult Acne/Teen Acne, Flakey, Hormonal, after exercise and waxing.
---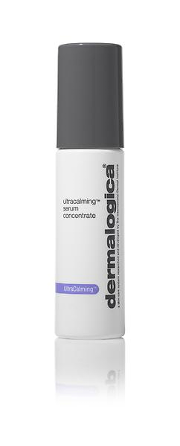 Ultra Calming Serum Concentrate
A light-medium weight serum that helps to rebuild the skins protective barrier. Red raspberry helping to control the dilatation of capillaries enabling the skin to become less reactive (flushing) over a period of time and increasing hydration with Hyaluronic acid
Skin Type/Condition: Sensitive, Sensitised, Red, Dehydrated, Adult Acne/Teen Acne, Flakey, Hormonal and over processed skin (exfoliation or medications such as Roaccutane.
---

Barrier Repair
Your cement replacement! Barrier repair acts as your protective barrier and fills in the gaps preventing hydration loss and environmental irritants getting in. Its filled with soothing ingredients oat, borage seed and evening primrose, but surprisingly offers vitamin C and E to stimulate collagen production. Its silicones offer a silky smooth primer feel. (Do not confuse this with petroleum jelly. Petroleum jelly will stop the skins natural production of oil distorting the lipid function more making the skin dryer)
Skin Type/Condition: Great for all skins during winter, swimming, suffering from eczema and psoriasis.
---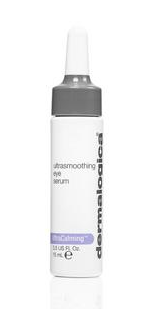 Ultra Smoothing Eye Serum
One of the most versatile eye products launched. It's a combination of peptides, cross-linked hyaluronic acid and soothing complex allows the most irritated of eyes to hydrate, repair and still receive anti-ageing benefits. Its small molecules allow it to penetrate quickly into the skin which is brilliant if you are suffering from hay fever. Other eye products can be layered on top.
Skin Type/Condition: Sore, irritated, watery eyes.
---

Super Sensitive Shield SPF 30
Barrier function supportive physical SPF for reactive skins. It's hyaluronic acid content address dehydration caused by environmental factors by holding 1000 times it's weight in water. A physical SPF helps to prevent heat that can build up in the skin while out in the sun. Not just physical sun protection, a hydrating soothing treatment too.
Skin Type/Condition: All Skin types can use this moisturings SPF. A must if on retinols, anitbiotics, roaccutane or suffering with pigmentation.
---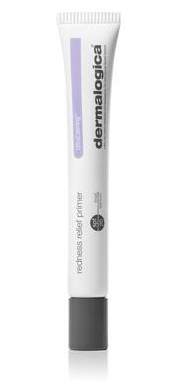 Redness Relief Primer SPF20
Skin care and makeup combined. This green tinted primer helps not only to colour correct redness, but it's soothing complex of oat, ginger and basil work to diffuse and calm redness, sensitivity and inflammation whilst protecting with SPF 20.
Skin Type/Condition: Skins that easily flush or hold alot of redness.
---
We would all naturally go to a calming range if our skin was inflamed but did you ever consider there may be products outside of that range that will still do the job. We at Customised Beauty invite you in for a Free Face Mapping session to discuss your skin further as even through the above products are fantastic there maybe something elce that will achieve you your goal quicker. Below are 3 examples of products that will still sooth an irritated skin but will aid it in other ways too.
---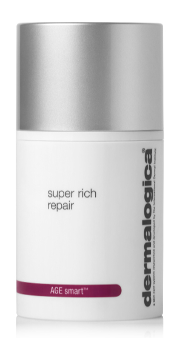 Super Rich Repair
This is a heavy duty moisturiser hat is rich in peptides for collagen and elastin production but offers Borage seed, oat kernel and evening primrose oil to sooth irritated skin
Skin Type/Condition: Ultra Oil Dry skin, flaky, sensitive and sensitised.
---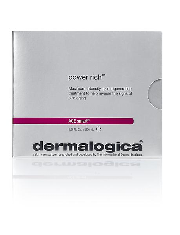 Power Rich
The ultimate moisturiser that does everything and more, This moisturiser replaces your serum, exfoliator (contains an acid-free exfoliant that doesn't irritate even the most sensitive skins), eye cream and can be used day and night. It can save you a lot of time and money whilst delivering silky smooth, barrier supported skin due to algae and seaweed extracts. Your full routine would be cleanser, Power rich and an SPF.
Skin Type/Condition: All.
---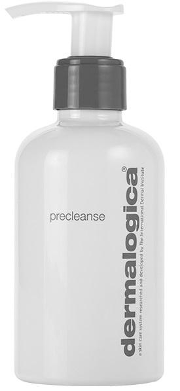 PreCleanse
One of Dermalogicas' hero products. The first step cleanser and makeup remover, envelopes the skin with barrier supportive ingredients such as borage seed, apricot kernel and kukui nut oil (Vitamin A C and E) to bring down inflammation, to clear the skin whilst hydrating it. PreCleanse Balm does not contain nuts.
Skin Type/Condition: All.
---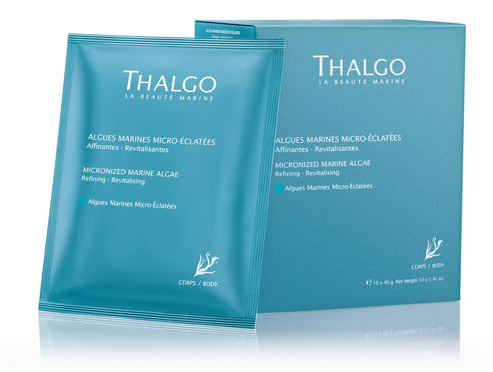 Thalgo Micronised Marine Alage
In France Micronised Marine Algae has a medical patent and is prescribed by doctors or skin disorders that consist of dryness and irritation e.g eczema and psoriasis, it is highly effective and easily absorbed into the skin via osmosis due to the special patented procedure of 'micronisation'. This concentrated powder cam be used on the face as a masque a hydro-bath treatment or applied to the area of concern and wrapped in Clingfilm. Thalogo's Plasmag Gel is a perfect partner to the micronised marine algae as it speeds up the osmosis process, and if the powder is not your thing it is also available in the form of a bar of soap. Micronised Marine Alage Cleansing Bar
Please feel free to look at our websites for treatments that are avaliable such as the MMA, Express MMA and Cold Cream Marine.
For further information please feel free to contact us at Customised Beauty and we will be happy to answer any of your questions.
---